Some of you may be aware that I am a Flight Attendant for a major US air carrier. One of the benefits of being a Flight Attendant is that my family and I get to fly for free.
As a result my wife will fly to St. Louis, Missouri from time to time to visit the grand children.
While flying for free is great, one of the downsides is that you can only fly when seats are available.
Recently, she got stuck in St. Louis and couldn't get home. She called me even though I was on a work related layover in Philadelphia, not knowing what else to do.
I looked over the flight schedule and suggested which flight I thought she should try for— then we PRAYED.
As it turned out, MY WIFE GOT ON THE FLIGHT.
From this experience I learned 3 steps for getting God involved in my prayer.
3 Steps For Getting God Involved in Your Prayer
1. ASK God for the desire of your heart.
First of all, I just told God the DESIRE of my heart. I prayed, "God I don't know your full will here but it would really save Deb a lot of trouble if you could just get her on the flight. She's tired and wants to go home."
You do not have because you do not ASK God.

James 4:2b
God is a person. He wants you to dialogue with Him as a person. We start by just being honest with Him and telling Him the desires of our heart.
Jesus did the same in the Garden of Gethsemane. He didn't particularly cherish the idea of being tortured on a cross. This is what He prayed:
Going a little farther, he fell with his face to the ground and prayed, "My Father, if it is possible, MAY THIS CUP BE TAKEN FROM ME."

Matthew 26:39a
Jesus asked for the desire of His heart. But he also didn't end the prayer there either. He continued praying:
"Yet not as I will, BUT AS YOU WILL."

Matthew 26:39b
That brings us to step #2.
2. Trust God for the outcome.
You see, it's okay to ask God for the desires of your heart, but you need to be able to TRUST God for the outcome.
If God doesn't answer your prayer the way YOU want Him to, does that mean that God did not answer your prayer? If you think your prayer has gone unanswered then maybe you should consider your view of God. Is He your personal Genie?
Take a look at how this person views God: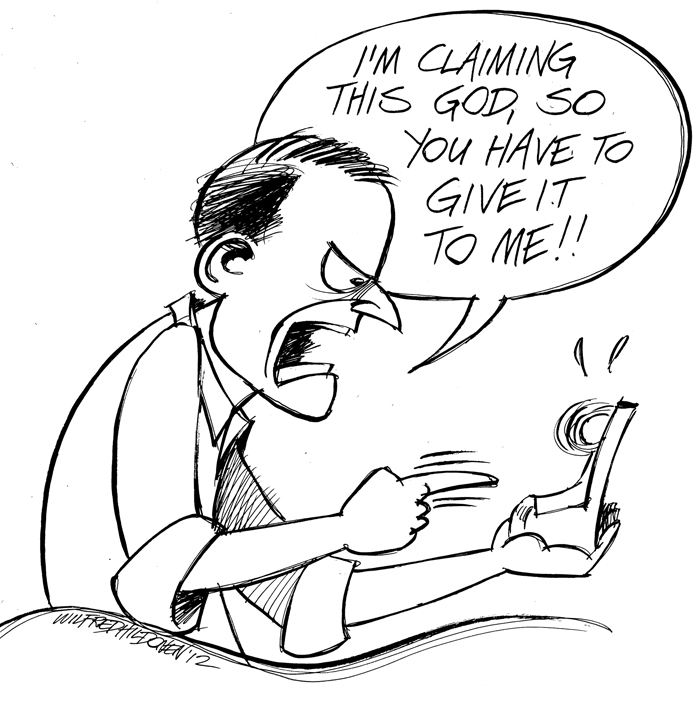 Wouldn't it make more sense if we approached God this way: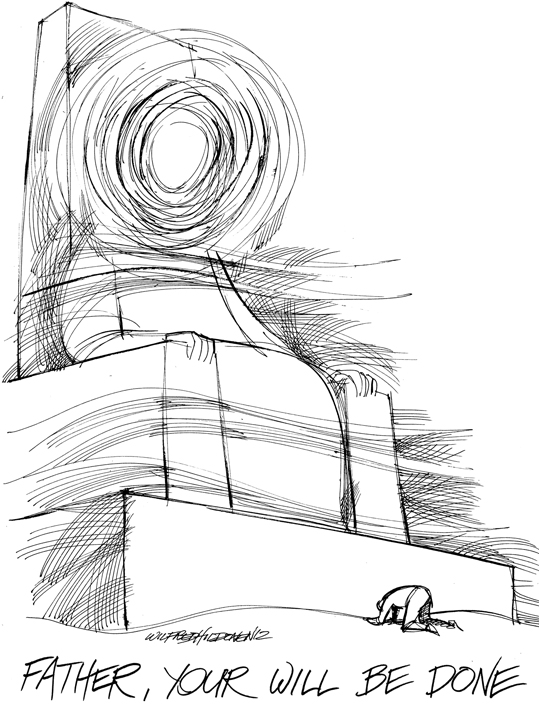 Yes, we ask God the desires of our heart but we also understand that he has the best PERSPECTIVE. We shouldn't think that a different answer from Him is a non-answer. We TRUST Him for the outcome EITHER WAY.
Prayer for My Wife
Concerning the prayer for my wife, I continued to pray for my wife's situation right up to the time she was to board the flight. I kept asking God for the desires of my heart, but I also told Him I would trust Him for WHATEVER the outcome might be.
As I sat there in my layover hotel praying for my wife, the departure time for the flight had come and gone.
I waited on the Lord.
Then, in my spirit came a GIGGLE. "Where did that come from?" I thought. "She's on the flight", the Lord said deep in my spirit. Then I began to laugh and thank Him. I hadn't heard from my wife, but I KNEW she was on board.
Moments later a text message appeared on my phone, "I'm on board the flight", she said. That through me over the top. I laughed, cried and thanked God. The text confirmed what I already knew in my spirit.
I had TRUSTED God for the outcome— either way. But then, in this instance God allowed me to experience FAITH TOO!
What is faith?
I used to think that faith was something I had IF my prayers were answered. But that's not what faith is. We don't use faith to get what we want. Faith is an enablement of the Holy Spirit helping us to see ahead of time what God is going to do.
Faith is BEING SURE of what we hope for. It is being certain OF WHAT WE DO NOT SEE.

Hebrews 11:1
In this case, God gave me the ability to see ahead of time that my wife was on the flight.
Will God always give us the faith to see His answer ahead of time?
That leads to step #3.
3. Wait for faith, but if it does not come continue to trust God.
You know, faith is nice, but God will not always give us the faith to see His answer ahead of time. Trust is the KEY in all prayer. Wait for faith, but always TRUST God no matter what.
Make this scripture a part of your life:
Trust in the Lord with all your heart and lean not on your own understanding; in all your ways submit to him, and he will make your paths straight.

Proverbs 3:5-6
In order for prayer to be effective in your life you have to learn to TRUST God, even when things look bad.
The way we develop this kind of trust is through meditation. Meditation is not memorizing scripture. It's chewing on scripture like a cow chews on cud. Ruminating it over and over again in your mind until it become a part of your soul. For a broader look into this subject read my article, The Purpose of Meditation.
There you have it, 3 steps for getting God involved in your prayer. God's just waiting to hear the desires of your heart. So go ahead, give Him your heart's desire and trust Him for the outcome.