Perhaps you realize the need to read and study your Bible, but you're not sure the best way to go about it.
In this article I'm going to discuss how to get the most out of the Bible.
Getting the most out of the Bible is a 4 step process.
You have to:
Read it
Study it
Meditate on it
Memorize it
These four steps can be applied to any approach you take in studying the Bible.
You can study it by:
Books
Chapters
Topics
Some of the Topics might be:
Christ Studies: The Deity of Jesus, Life and Teachings, Parables
Characters of the Bible
Prophecy Studies
Problems of Life
Matters of Faith and Practice
Studying the Bible By Books
Start by getting a "big picture" of the Bible.
The 66 books of the Bible are broken in to 2 major groups (Old and New Testament) with several divisions.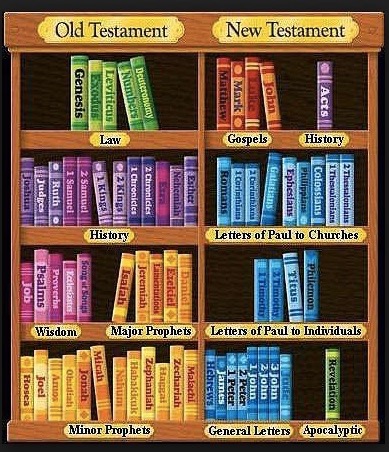 If you haven't read or studied the Bible before, start with the Gospels— specifically the Gospel of John.
Use the 4 step process for studying the Bible in this way:
Steps 1 & 2: Read and Study
READ or STUDY the book first. Read for 15 minutes and study for 15 minutes— or visa versa. The order doesn't matter.
To help you study, many Bibles have a synopsis that appears just before each book. If your Bible doesn't, get a Bible commentary. I recommend, Halley's Bible Handbook.
Or go to The Bible Project and watch short-form, fully animated Bible videos for each book of the Bible.
I also recommend Matthew Henry's commentary at BibleGateway.
Don't forget the Holy Spirit. Ask Him to help you and guide you into all truth (John 16:13).
While you are reading and studying, take note of scriptures or sections of scripture that you'd like to investigate further. Write them down in a notebook created for this purpose.
This is what my notebook looks like: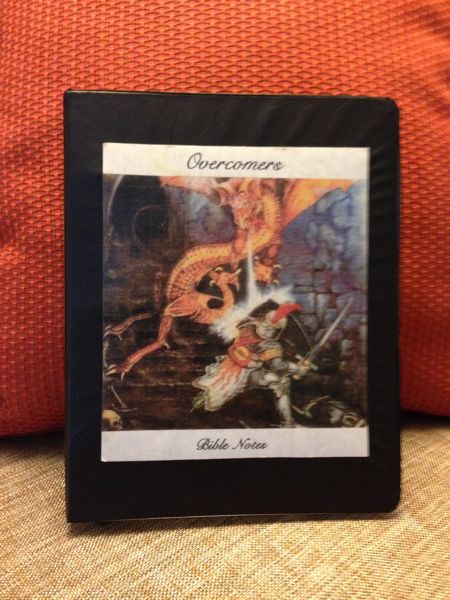 Keep reading and studying DAILY until you finish reading the book. Read and study at your own pace.
Steps 3 & 4: Meditate and Memorize
Once you have finished reading the book— go back to your notebook. Meditate on the scriptures or sections of scripture you wrote there. You are doing this IN THE PLACE OF your reading and study time.
Meditate for 15 minutes and memorize for 15 minutes. Do this daily until you have processed all of the scripture that you wrote in your notebook. Meditate and memorize at your own pace.
Meditation
Meditation is RUMINATING scripture. It's like a cow chewing on its cud. It's rolling scripture over and over again in your mind. What happens is that your mind, through repetition, begins to believe what it hears. Meditation reprograms your sub-conscious allowing you to believe the words of God rather than the lies of Satan. You begin to ACT on the words of God. You are transformed.
The Apostle Paul says:
Be not conformed to this world: but be ye transformed by the renewing of your mind, that ye may prove what is that good, and acceptable, and perfect, will of God.

Romans 12:2
Meditation is also prayer. As you roll God's words over and over in your mind, ask God for revelation. He will quicken a thought to your mind. He will give you insight into how this scripture impacts your life. The revelation will be so profound that you'll think about it for the rest of the day.
Sometimes a thought won't come. But don't despair, just move on to the next scripture allowing the Holy Spirit to guide and direct.
It's exciting in its own right to submit yourself to the Holy Spirit and to sense His presence as he leads.
For more on meditation read my article, The Purpose of Meditation.
Memorization
Where meditation reprograms the sub-conscious mind, memorization provides the RECALL needed to repeat it in your conscious mind.
In Psalm 119, King David said he memorized scripture so that he would not SIN against God.
Thy word have I hid in mine heart, that I might not sin against thee.

Psalm 119:11
You can too! Here are 3 scriptures from the Gospel of John that you could memorize:
For God so loved the world, that he gave his only begotten Son, that whosoever believeth in him should not perish, but have everlasting life.

John 3:16
In the beginning was the Word, and the Word was with God, and the Word was God.

John 1:1
Jesus saith unto him, I am the way, the truth, and the life: no man cometh unto the Father, but by me.

John 14:6
But how do you go about memorizing scripture?
1. Begin by creating scripture memorization cards.
You can use 3 x 5 cards, but I made mine smaller so they would fit into a baseball card protecter.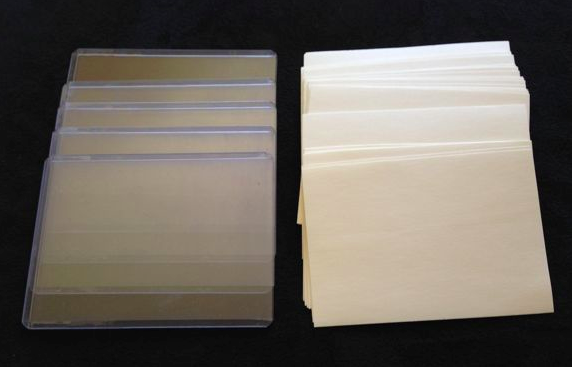 2. I type the verses out on my computer, print them and cut them to size. I glue them onto my card stock using a glue stick. You can also use scotch tape. It's also just as effective to write your scriptures out by hand if you want to.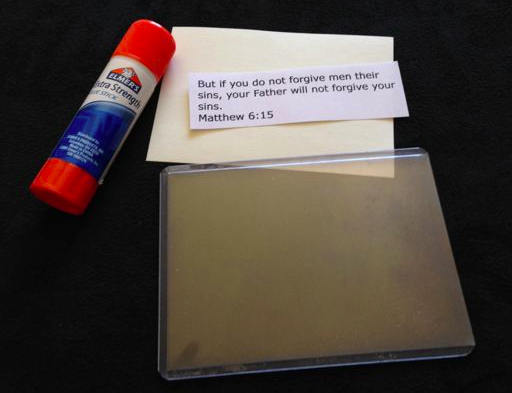 3. Insert them into your card protecter and put them in a filing box by topic.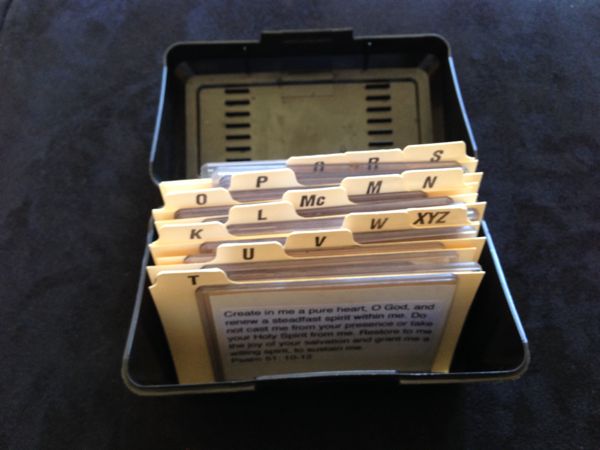 4. Carry the cards with you wherever you go so that you can refer to them and commit them to memory.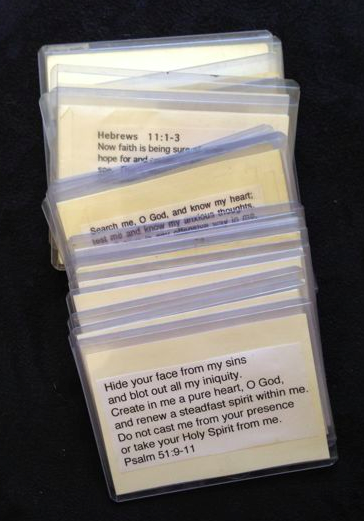 5. Memorize scripture by breaking them down into smaller pieces. Repeat each phrase in your mind over and over then move on to the next phrase.
For example: Break John 1:1 into 3 pieces. In your mind, repeat:
a. In the beginning was the Word (about 100 X's).
b. Then repeat, …. and the Word was with God (about 100 X's).
c. Then repeat, …. and the Word was God (about 100 X's).
Now put it all together:
In the beginning was the Word, and the Word was with God, and the Word was God.

John 1:1
How Reading, Studying, Meditating and Memorizing the Bible Work Together
For years I just read and studied the Bible— and it became a GRIND. I knew a lot about the Bible but I didn't know how to make it work in my life. That's until I discovered meditation. Meditation inflamed me and gave me PASSION.
Wow, the Holy Spirit was really working in my life, talking to me— explaining and teaching. That made a huge difference, it made it real.
That's how I stumbled upon this 4 part method for growing in the Word. I realized that reading and studying the Bible spoke to my HEAD giving me the knowledge that I needed to grow, but meditating and memorizing the Bible spoke to my HEART giving me the relationship that I craved.
It can do the same for you.
All you have to do is pick a book or topic that you would like to study. Spend 30 minutes a day reading and studying it. Record scripture that inspires you in your notebook. When you've completed the reading and studying cycle, begin the meditating and memorizing process from your notebook. Do this for 30 minutes a day in place of the reading and studying cycle.
When the book or topic you are reading, studying, meditating and memorizing is completed, go on to the next book or topic.
Take your time. Don't feel pressured to meet anyones agenda. Just get it in you!
What to Read
Take a second look at the Books of the Bible graphic above. Start with the New Testament. Choose one of the sections indicated there: Gospels, History, Letters of Paul to Churches, Letters of Paul to Individuals, General Letters and Apocalyptic.
Then read through the books in that section. My only suggestion is that if you have not read the Bible before, read the Gospels first— particularly the Gospel of John. Other than that, pick a section of the New Testament that seems interesting to you.
After you read the entire New Testament, then read the Old Testament. In all cases use the Head/Heart Method I explained above.
There are many resources on the market to help you in your endeavor. There are Harmonies for studying the Gospels. Harmonies place the Gospels side by side in chronological form. Harmonies allow you to compare the Gospels, gleaning from one what might not be in the other. One such Harmony is: Horizontal Harmony of the Four Gospels in Parallel Columns: King James Version.
The King James Bible
I would also like to suggest that you make the extra effort to read the King James Bible. The modern versions distort and leave out entire verses of the Bible. However, if it's just too difficult to understand the King James, read a modern version with the King James along side it. This way you can compare what the two are saying. If there is a large divergence in what they are saying, always go with the King James Bible.
It's interesting to note that while many people say they believe in the infallibility of scripture as it was originally given, they have a hard time believing God preserved it in history.
In my article, Is There a Perfect Bible? Is the Bible Inerrant?, I show you where scripture comes from, that God has preserved it and what Satan does to pervert it.
Because you will have many questions concerning this topic, I suggest you go to Information on Bible Versions. This site covers this topic extensively.
Note: I recommend the KJV Common Man's Reference Bible. You can purchase a copy at Pure Words of Truth.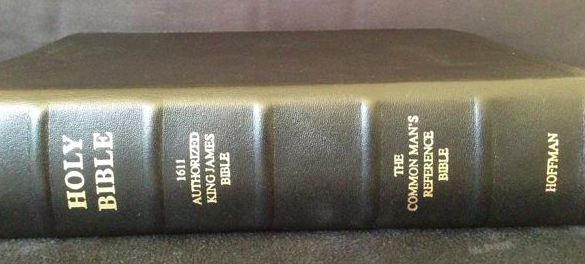 Conclusion
God gave us the Bible to lead us to Him and to help us grow.
All scripture is given by inspiration of God, and is profitable for doctrine, for reproof, for correction, for instruction in righteousness: That the man of God may be perfect, thoroughly furnished unto all good works.

2 Timothy 3:16-17
But we can't really grow until we learn to get the most out of the Bible. If we only read and study the Bible we may have ALL knowledge, but our hearts will not learn to love (1 Corinthians 13:2).
Only when we combine reading and studying with meditating and memorizing will we learn to love, because God will find root in our heart. He will speak to us through the power of the Holy Spirit.
May God grant you His peace as you read, study, meditate and memorize His word.