Under the Spiritual Health section we saw that man became limited in nature through the death of his spirit. As a result, without access to the unlimited nature of God through his spirit, man became fearful and angry. But God didn't leave man this way. He came to earth, lived a life and created a new nature for man to acquire. When man receives this new nature, he is born into God's Kingdom and he becomes a child of God (John 1:12-13).
And now the Apostle Paul commissions us to "put off your old self… and to put on the new self".
Put off your old self, which belongs to your former manner of life and is corrupt through deceitful desires, and to be renewed in the spirit of your minds, and to put on the new self, created after the likeness of God in true righteousness and holiness.

Ephesians 4:22-24
What is the Apostle Paul referring to?
The "old self" is the person you used to be when your spirit was dead and your mind, will and emotions only had access to information it could receive from the physical world.
The "new self" refers to the new nature that exists with God in heaven, that you now have access to through your regenerated spirit.
Paul wants you to get healthy mentally. He wants you to bring who you are in heaven (your new self) to who you are on earth (your old self). Your regenerated spirit in conjunction with the Holy Spirit (Spirit of Christ) allows you to do this.
In doing this you transform your mind.
Do not be conformed to this world, but be transformed by the renewal of your mind, that by testing you may discern what is the will of God, what is good and acceptable and perfect.

Romans 12:2
This process is called sanctification, it's bringing the characteristics of Christ in heaven, who forms your new self, to your mind, will and emotions (your old self) on earth.
How is this accomplished?
STEP 1
The first step is to change our PERSPECTIVE. Let go over in greater detail what we covered above.
Prior to the regeneration of our spirit, our mind, will and emotions could only receive what was presented to it from the physical world.
A quick review of man's composition will show us why this is so.
Created in God's image, man was body, soul and spirit (1 Thessalonians 5:23).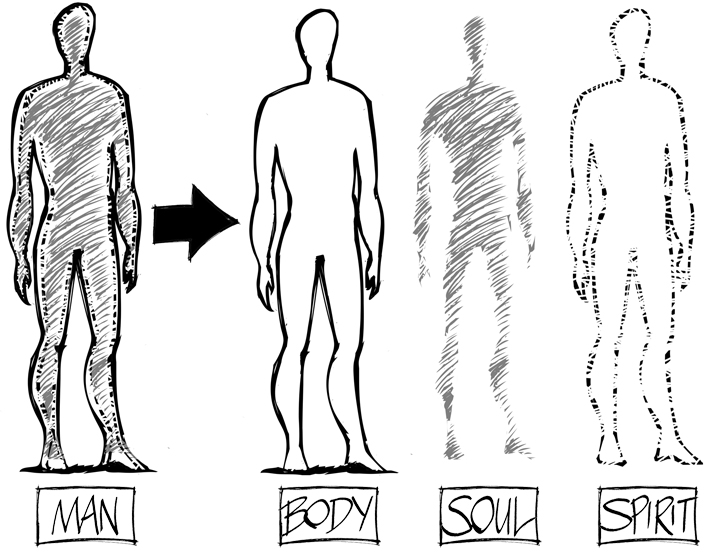 Before the fall, the SOUL of man (mind, will and emotions) used its physical body to interface with other men in the physical realm. The soul of man used its spirit to interface with God in the spiritual realm.
The following illustration shows how man's soul and spirit were LINKED so that he could interface with God.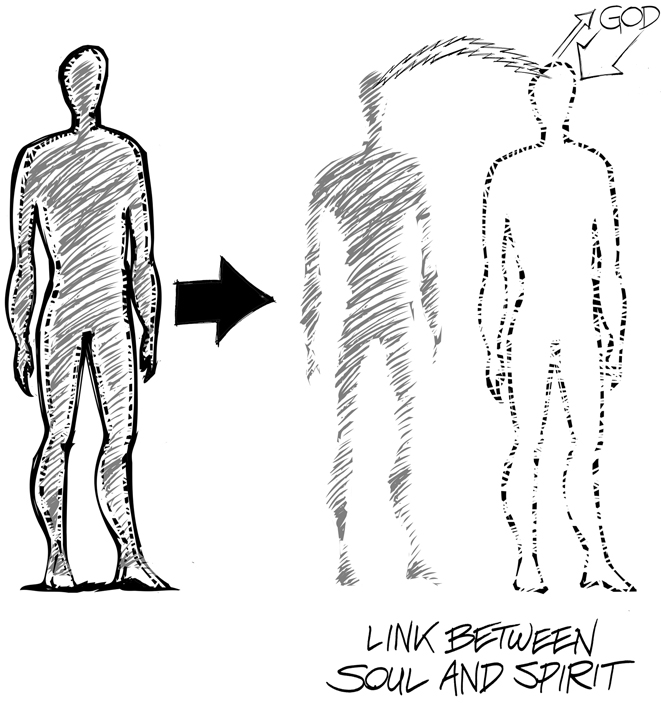 But then the first man, Adam, sinned and his SPIRIT DIED. He could no longer interface with God. The link between his soul and spirit were broken.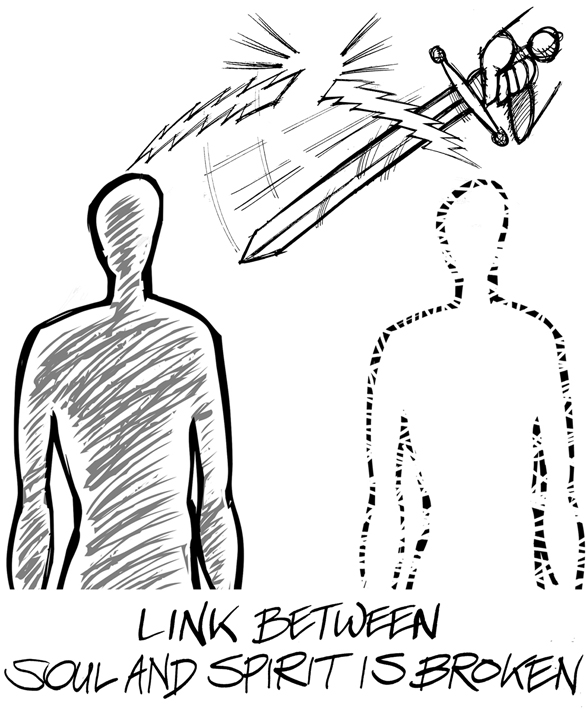 Sin also changed Adam's composition. After sin, Adam looked like this: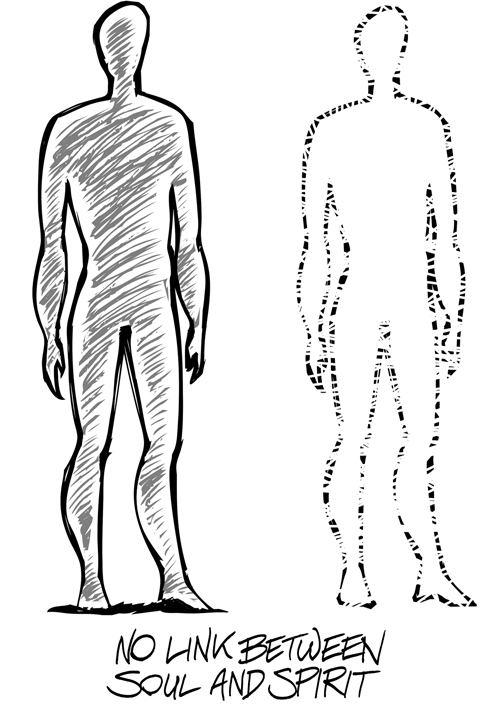 When Adam and Eve had children they passed on their fallen composition. Therefore all men are born without the capacity to interface with God.
As a result they are the product of what the world makes them. Man's mind, will and emotions are controlled by the world he lives in. It is his only source of input. For this reason we can say that man lives in the "Matrix".
What the Matrix Is
The Matrix is the construct of a FALSE world in your mind. This construct was developed because you had no access to God through your fallen spirit. You were the product of every false thing that your 5 senses fed you. As a result you believed in things that weren't true.
But now through salvation (justification), God changes that. Your regenerated spirit has access to the TRUTH through the Holy Spirit. Christ's mind is in you (1 Corinthians 2:16)— your mind, will and emotions have the ability to be transformed (Romans 12:1-2).
This is how man's composition looks with the Holy Spirit in Him: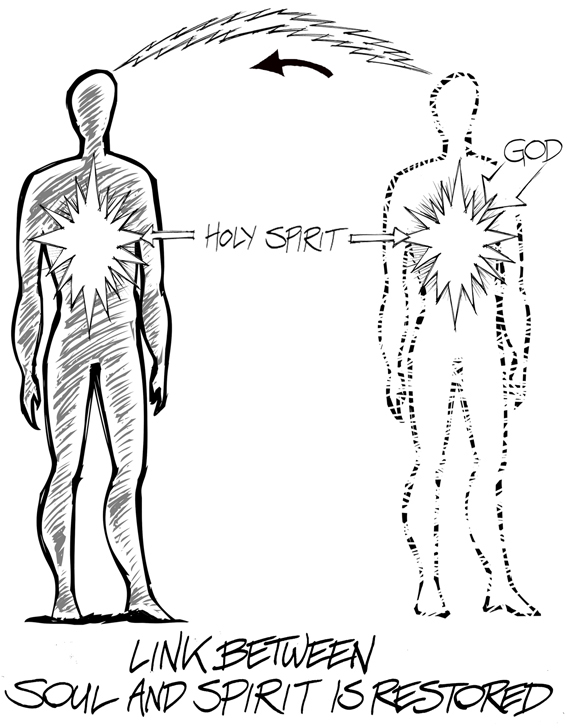 Man's regenerated spirit along with the guidance of the Holy Spirit allows man to reconstruct his thinking.
However, if man chooses to view himself and the things around him through the eyes of the physical world, he won't change, even though he has the Spirit of Christ in him (Christ in You). To change his mind, will, and emotions man has to put himself in Christ (You in Christ). He has to change his perspective. Regenerated man has to see things from God's perspective, the way God sees them.
How does man change his perspective?
It all depends on how he deals with the sin in his life. That brings us to Step 2 in the sanctification process.
STEP 2
DEALING WITH SIN God's way.
Regenerated man has to realize that upon salvation (justification) he instantly lives in God's Kingdom. He may not sense it or see it in his life, but his "new self" exists with God in heavenly places (Ephesians 2:6). What keeps him from seeing this reality is the sin in his life. His sin keeps him locked into an earthly perspective, the same perspective he had before he received his new nature.
God gives regenerated man a way to move to His perspective. The Apostle John explains:
If we confess our sins, he is faithful and just to forgive us our sins and to cleanse us from all unrighteousness.

1 John 1:9
John is saying that sin keeps regenerated man locked into an earthly perspective. His mind is "out of the Kingdom". Man can return to the kingdom, that is, man can change his mental perspective back to God's Kingdom, when he confesses his sin. God will then cleanse him from his sinful perspective and restore his perspective back to "heavenly places" (Ephesians 2:6).
Man puts himself in Christ (YOU IN CHRIST) when he changes his thinking through the confession of sin. As long as man does this, the Bible says he is "walking in the Spirit" (Galatians 5:16), he is walking in the mindset of God or the Kingdom of God.
But some will ask, don't we need to DO something when we sin, don't we need to make it right? Other than going to someone and asking them to forgive you, what can you do rectify sin?
Only God can remedy the ultimate penalty of sin— death. And that is what Christ did when he died on the cross. He is the propitiation of our sins, for all sin.
He is the propitiation for our sins, and not for ours only but also for the sins of the whole world.

1 John 2:2
In this God cleanses our mind, will and emotions on earth and we are transformed into His likeness (Romans 12:2).
For more on this subject read my article, How To Deal With Sin.
But is our transformation accomplished solely through the confession of sin? No, that's because we often don't realize the extent of our sin. Often times our sin is hidden even to ourselves.
Who can discern his errors? Declare me innocent from hidden faults.

Psalm 19:12
The sanctification of our mind, will and emotions continue in Step 3.
STEP 3
God brings heaven to earth and changes us through the reading, study and mediation of His Word, THE BIBLE.
In 2 Corinthians the Apostle Paul explains how this is accomplished:
And we all, who with unveiled faces contemplate the Lord's glory (by gazing into HIs Word), ARE BEING TRANSFORMED INTO HIS IMAGE with ever-increasing glory, which comes from the Lord, who is the Spirit.

2 Corinthians 3:18
As we contemplate the Lord's glory (by way of the Bible) the Holy Spirit teaches us what we need to know. Sometimes we are educated in doctrine, sometimes we are instructed in righteousness. Sometimes we are corrected or reproofed (2 Timothy 3:16). Whatever the Holy Spirit quickens in us— it is our joy to respond.
If He convicts us of sin, we have an attitude of repentance (1 John 1:9). In Sanctification, just as in Justification, we die to ourselves— we die to our own ego filled sense of what we think it true. We realign our thinking with God's Word. As we cooperate with God's Word allowing the Holy Spirit to teach us (not the traditions of men or religion), God transforms us. We become more and more like Christ.
Conclusion
Sanctification is seeing life from God's perspective. You can do that because God has regenerated your spirit and the perfect nature He has given you exists with Him in heaven (Ephesians 2:6). Transfer that nature to your mind, will and emotions on earth by dealing with sin God's way. Sin is what removes you from God's perspective and puts you back in the despair of a limited perspective. Return to God's perspective by confessing your sins to God. He will wash sin from your life (1 John 1:9). Reading, studying and mediating on the Bible, God's Word, allows God to further refine what you're thinking, so you can confess hidden sin and grow in righteousness.
Of course Satan hates all this, he wants to keep you stuck in your earthly perspective. In fact, the Bible says that Satan attacks you in 6 different ways to keep sanctification from occurring in your life.
Satan attacks our new IDENTITY.
Satan keeps our minds from being renewed or SANCTIFIED.
Satan tempts us to SIN.
Satan keeps us from finding our PURPOSE.
Satan hides the TRUTH.
Satan steals our PEACE.
God counters Satan's attacks by providing us 6 pieces of protective armor (Ephesians 6:10-18). As we put these pieces of armor on, we are mentally protected. The categories under the Mental Health section of this website are organized according to the Armor of God. The categories are:
IDENTITY: Breastplate of Righteousness
SANCTIFICATION: Helmet of Salvation
SIN: Sword of the Spirit
PURPOSE: Shield of Faith
TRUTH: Belt of Truth
PEACE: Feet fitted with Peace
Use these categories to help you grow in your mental health. The category of IDENTITY is the first in this series.